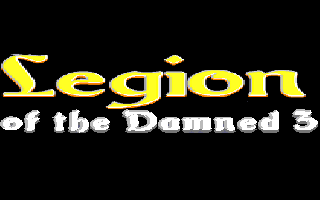 Legion of the Damned 3 (Commodore 64)
The C64 game that won second place in the Official C64 SEUCK Compo 2019 is finally here, with all the new amazing enhancements in place. Making this sideways SEUCK adventure even more STUNNING. Smooth background animation, spell power ups and wonderful atmospheric music.
The village of Coyed-Ellyon has been put under a dark spell, which has placed a curse over the land. Brave warrior princess. All woodland creatures have turned into nasty monsters, and the villagers have been transformed into evil Zombies. It is known that the curse has been unleashed by a magic stone, The Brex Rune located at Yaxley Tower.

You are princess, Xandra. A very brave and fearless warrior. You fought through many battles, but now you have an even tougher battle to take place. Armed with a shield and a sword. You must complete different quests in order to save your village. These quests will be prompted on screen at the start of each level. Then once you have succeeded with your quest, you must find the Yaxley Tower and make your way to the very top of the tower. Then destroy the Brex rune. Once destroyed, your village will be safe and all spells will be broken. How brave are you really at your quest?

This game was built for PAL, but might also work on NTSC.

CREDITS:

Game Design, Graphics and concept
Eleanor Burns (Created using Sideways Scrolling SEUCK by Jon Wells)
Additional programming and enhancements
Eleanor Burns

Front End programming, bitmap logo and music
Richard Bayliss

Tape loader source
Martin Piper

Mastered with:


(C)2019 Eleanor Burns and The New Dimension
This game, and its content is classed as free digital software. TND Games consents copying, sharing, modification/improvements and respectable broadcast of this production. However TND Games does not consent any part of this production to be used for physical or digital reproduction for sales or marketing of this production, nor its other productions without written permission from TND Games.
Install instructions
Simply extract the files inside the .zip archive and copy those to your SDCARD or USB and select the files to play on your Commodore 64 with 1541Ultimate 2, or the Ultimate 64, SDIEC, etc. If you're using VICE, CCS64, etc. Simply place the folders on to your PC and attach .D64 or .TAP image, and load the files like normal.