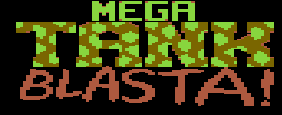 Mega Tank Blasta [Commodore 64]
The New Dimension in co-op Alf Yngve proudly presents MEGA TANK BLASTA a fast firing vertical push scrolling game, originally created using the Shoot Em Up Construction Kit back in 2018. The game was improved with new graphics and also features a brand new stable scrolling engine by Martin Piper.

This game features the following:

- Awesome loading picture by Arcadestation
- New front end presentation
- Hi score table
- Cool music with jingles
- New status panel rendering
- 3 Challenging stages with mean intelligent firing enemies
- Mean end of level bosses
- Power ups, to help build up/down your tank's fire rate and shield
- Target range bonus rounds
- Plenty of fun arcade action

THIS GAME IS ONLY COMPATIBLE ON PAL machines.
This game also works on theC64, but vertical screen position needs to be raised to "15" (Add to your on theC64-default.cjm V:15).

A rogue agent has broken out of a high security prison, based in the USA. He has transformed three parts of the world into a military war zone. Rumor has it that he has captured a Gun boat and he is heading towards the UK ports, in order to cause even more havoc.
Armed in a heavy armored tank. Your mission is to battle through three different battle zones, which is heavily guarded by the agent's army. The enemies are based on ground, air and on water. Some enemies will aim for your tank's position . Others will just fire the direction they are facing. Luckily help will be at hand. There are power ups which can be collected in order to allow you to fire your bullets more rapidly.

At the end of each stage is a large boss. Fight the boss in order to complete the stage more quickly. You will then move on to the bonus stage, where you are placed at a firing range. Simply blast at those targets and rake in as many points as possible before moving on to the next stage.

Can you reach all the way to England and sink the Gun Boat with the agent inside, or will chaos reign across the world? Good luck.
CREDITS:
Game design, graphics and sound effects:
Alf Yngve and Richard Bayliss
(Created using the Shoot Em Up Construction Kit by Sensible Software)
SEUCK Redux and Tape loader source by
Martin Piper
(Mastered with Tape Master Pro V4.0, based on TapeToolBuild)
Additional programming and char set:
Richard Bayliss

Loading picture artwork and cover inlay artwork by:
Arcadestation

(C) 2020 The New Dimension (Originally for Reset issue 13)

This game, and its content is classed as free digital software. TND Games consents copying, sharing, modification/improvements and respectable broadcast of this production. However TND Games does not consent any part of this production to be used for physical or digital reproduction for sales or marketing of this production, nor its other productions without written permission from TND Games.

Mastered with:


Note: If playing in browser. After pressing Z (as fire) or space on picture displayer. Please allow time for the main game to decrunch. It uses a long decrunch system.
Install instructions
Simply download the .zip archive. Unzip it with a Windows Zip application and install the game files to your PC, and then copy the desired programs to an SD-CARD or USB or run in VICE or equivalent. The game should also work on Ultimate 64, theC64 , 1541Ultimate 2 or other hardware devices plugged to your C64. SDIEC users - use the D64 version. TAP version is for tape loader fans :)