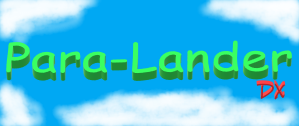 Para Lander DX [Commodore 64/theC64]
In December 2020, TND Games made Para Lander Mini as an entry for the Cassette 50 Charity Competition. Now in April 2021 comes "Para Lander DX". A complete full version of what was originally a 2KB game. This game was being made partially as theC64 Easter Challenge, but was finished off in 64TASS cross-assembler.
Unlike Para Lander Mini, Para Lander DX consists of the following features:
* Full presentation
* Much nicer game graphics
* Smoother game play
* 16 Levels of addictive game play
* 3 different up-tempo sound tracks
* High score table with disk access
* Compatible with theC64 full size, (Requires keyboard input)
* PAL/NTSC compatible

THE GAME:
This is a fun deluxe arcade style hi-score attack game, based on the Cassette 50 Charity competition entry, Para Lander Mini (Also made by me). A helicopter appears on the top of the game screen. Your task is to launch your paratroopers and land safely onto the launch pads that are above the ocean.
After you land on one pad, it will lower down into the ocean. Once you have landed onto all six launch pads. You will be awarded a bonus, but that depends on if you have time left. If the time runs out you will lose the game.

After you complete a round. All of the pads will be restored to their height, and you will move onto the next level. There are 16 levels in total before you start at level one again.
Landing on to each launch pad may sound easy enough, but look what has appeared in the sky. There are tourist Zeppelins flying across the screen. You have to try and shift your way past these and hope you don't end up into the ocean. If you end up into the ocean, you will lose a life. Lose all 4 lives and it is game over.

Control:
On the title screen, press 'SPACE BAR' to view high score table or press 'FIRE' in joystick port 2 to start the game.
Joystick control:

FIRE: - Launch a paratrooper from the helicopter

LEFT or RIGHT: - Shift the paratrooper left or right
Credits:

Programming, graphics, sound and music by
Richard Bayliss
Tape loader system by
Martin Piper

(C)2021 The New Dimension

This game, and its content is classed as free digital software. TND Games consents copying, sharing, modification/improvements and respectable broadcast of this production. However TND Games does not consent any part of this production to be used for physical or digital reproduction for sales or marketing of this production without permission from TND Games.
Install instructions
Download the Zip archive as usual. Extract the files to a sub folder on to your SD Card or USB device. Insert into your C64 related hardware / Ultimate 64 and load the files as you normally would, by selecting the D64 or TAP file and then running it on your device.


If you have no Commodore 64, theC64 or Ultimate64, you can still join in the fun. Download VICE, CCS64, or HOXS64 and then run the .D64 or the .TAP on the software.