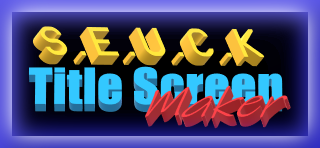 SEUCK Title Screen Maker V1.5+ [Commodore 64]
Are you a creative Commodore 64 user who likes to make games using the Shoot Em Up Construction Kit (SEUCK) or Sideways Scrolling SEUCK. Are you bored with the old front end, provided? Do you want to make your presentation stand out but you cannot code?
Transform this: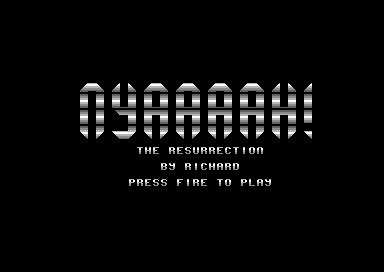 into this: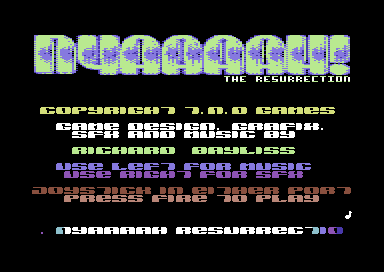 The New Dimension is very proud to present to you the SEUCK Title Screen Maker. A fun tool which can help you make cool new front ends and link them to your very own standalone games, created with SEUCK on the Commodore 64.

NO CODE REQUIRED, but you will need an Action Replay/Retro Replay cartridge or plugin to place the title screen onto your game, if you can't code.

A manual PDF has also been included with guidance on how to use this tool.

V1.5+ (6th July 2022)
+ Major bugfix - In title screen credits editor, it was impossible to remove all the text after pressing shift and clear home. This is now working. The manual remains unchanged.

V1.5 (1st July 2022)
Due to major changes in the main title screen code. This production is not compatible with title screens created with older versions of SEUCK Title Screen Maker).
+ Zero fill added in scroll text editor when SHIFT+CLEAR HOME is used. Instead of filling with the spacebar key, it will fill the scroll text with the invisible @ character.
+ Clears only the title screen area when SHIFT+CLEAR HOME is used
+ Added additional option to allow play any music relocated. You will need to type in the music init and music play values for this option to work.
+ Fixed sound bug on title screen, which fails to initialise custom tunes before playing properly.
+ Added a revamped Nyaaaah! Resurrection example SEUCK game with title screen (re-formatted to V1.5) and music.
+ Added 7 different title tunes and 7 different game tunes
Updates in V1.4
+ Removed all score panel inverting routines from the game. The standalone title screen will now remove the SEUCK char invert routines once executed. It is best to install the new front end, after you start a new game and use the freezer or reset or vice monitor.
+Updated the scroll text editor to allow the user to press F1 to store a wrap pointer at end of scrolling message. To clear whole scroll text, use SHIFT+Clear home. The @ symbol is removed from the charset and is invisible.
Note: If you want to zero fill the scroll text before writing another. You should start the front end from scratch or go to a machine code monitor in the main scroll text editor (where your flashing cursor appears) Then type in
F 0400 0798 00

This will give you clean space.

+ Fixed GET READY and GAME OVER text to use 40 characters instead of 39. 39 chars wasn't intended.
+Updated user manual, including on how to recover title screen data from older versions of the SEUCK Title Maker.
Note: When testing the front end on the GET READY screen, use FIRE on joystick port 2 to test GAME OVER otherwise, SPACEBAR will skip the GAME OVER screen. The SPACEBAR is used as a shortcut.

Updates in V1.3
+ SFX Sound channel was lost in previous version so not all SFX played. Bug fixed/patched in V1.3
+ PAL/NTSC detection is based on raster screen size of the C64 instead of $02A6. This is because when testing on TLRs SuperFluid catridge plugin, the music slowed down during play. This may have affected some other cartridges as well.
+ It is now possible to display Game Over as well as Get Ready when testing the front end from the menu screen.
+ Updated the title screen editor to use the CBM default font at the top of the screen. When using 2x1 characters, you can now see the green upper text more clearly.
+Updated user manual.
The S.E.U.C.K Title screen maker consists of the following features:

Load music relocated to $8000-$8fff (Title) / $9000-$9fff (In game). Music must be in PRG format. (Use a SID music relocator before using this option).
Add/disable optional GET READY, GAME OVER and HI SCORE music to your project.
Load Koala paint multi colour bitmap or OCP Art studio hi-resolution logo. (Dimensions: 7 row x 40 chars from top of screen).
Load custom 1x1 (8x8 pixel) character sets, in hi-res or multi colour mode.
Edit your own optional hi score table list
Load and edit existing title screens already made
Make colourful front end presentations for your games, including credits, scroll text, get ready and game over and make your own flashing colour schemes or still colour.
Edit the title screen settings to suit your game.
Save the finished title screen, load your SEUCK game and link it to your game
Free memory adaptable for programming your own enhancements into your SEUCK games (See SEUCK School for tips and tricks).
Compatible with theC64 and theVIC20 with Firmware V1.6.1 (in C64 mode) with Action Replay/Retro Replay cartridge plugin. (Make sure your disks use true drive emulation (accurate disk when enhancing)
Fixes the SEUCK wrong player scoring bug
Helpful manual.
The SEUCK Title Screen Maker also comes with example new front ends and runnable raw versions of previously seen non-commercial SEUCK games by Alf Yngve and TND games (Used with permission of course).

Credits:

Programming, design and music by Richard Bayliss

All example games come in standalone raw SEUCK format, along with new front ends. All front ends have been converted to work on SEUCK Title Maker V1.4 and have been carefully put in place and tested.

There are future plans for a bonus disk/image containing Turbo Assembler code snippets with full instructions on how to implement and enhance your SEUCK games even more to your programs. Watch this space :)

(C )2022 The New Dimension
This production, and its content is classed as free digital software. TND Games consents copying, sharing, modification/improvements and respectable broadcast of this production. However TND Games does not consent any part of this production to be used for physical or digital reproduction for sales or marketing without permission.

You are welcome to use this production to create new front ends for your SEUCK game creations and get them published onto web sites, C64 community based covermounts for fan based C64 magazines.
The purpose for development this production is having fun and sharing with the C64 community.
Install instructions
Open the ZIP archive and then extract the D64s to your subdirectory. In order to be able to use these files you are required a C64 with a freezer cartridge, such as Action/Retro Replay or 1541Ultimate. with cartridge plugins. This program will also work on the Ultimate 64 with cartridge plugins or theC64/the VIC20 in C64 mode.
Please read PDF for a complete guide on how to enhance your own SEUCK games with this tool.
Download
Comments
Log in with itch.io to leave a comment.
Added V1.5+ This fixes the shift+clear home bug in the main title screen editor,

Impressive! - great work!