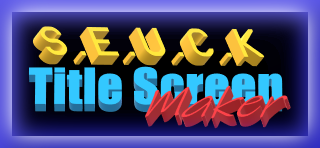 SEUCK Title Screen Maker [Commodore 64]
Fixed version uploaded - The scroll text editor is now functional

Current version: (V1.0)

It is possible that in the future this utility will have additional updates/improvements. This page will inform you about this.

Are you a creative Commodore 64 user who likes to make games using the Shoot Em Up Construction Kit or Sideways Scrolling S.E.U.C.K Engine or perhaps you have made a game you made many years ago using the editor, but want to jazz up the presentation and you cannot code?

The New Dimension is very proud to present to the S.E.U.C.K Title Screen Maker. A fun tool which can help you make cool new front ends and link them to your very own standalone games, created with S.E.U.C.K (Or perhaps your very own programs). A manual PDF has also been included with guidance on how to use this tool. , Side 3 of the disk image comes with some example games with the new front ends bolted onto the games.

Although you do not need any programming knowledge to use this utility. You will need a freezer cartridge, such as Action Replay/Retro Replay or equivalent.

Note also that this production is not a complete S.E.U.C.K enhancement kit. It will not completely enhance your game with power ups, in game background animation, full boss explosion. shared scoring, linked players, etc, you would need to refer to SEUCK School Tips in achieving those and use $4566 for your new loop.

The S.E.U.C.K Title screen maker consists of a series of options that will allow you to do as follows:
Load relocated title and in game music (and test play it) from general music players like JCH, DMC, Music Mixer, Cheese Cutter, Goat Tracker, Sid Factory 2, Future Composer, Dutch USA Music Assembler or Voicetracker format. Basically any tunes relocated that can init $x000, play $x003, init $x000, play $x006, or init $x048, play $x021.
Load Koala paint logos of a max width of 40 chars and height of 7 chars to your front end
Load custom 1x1 (8x8 pixel) characters (including char animation frames for shifted keys)
Load and edit existing title screens on the disk
Edit your own animated title screen credits page, scroll text and optional hi-score table with flashing colour
Set up the game settings to suit your front end
Save the finished title screen, load your S.E.U.C.K game and link it to your game
The S.E.U.C.K Title Screen Maker also comes with example new front ends and runnable raw versions of previously seen non-commercial S.E.U.C.K games by Alf Yngve and T.N.D games (Used with permission of course).
Programming and graphics by Richard Bayliss
SEUCK game engine by Sensisoft and Outlaw Productions

All example games feature credits where possible.
(C )2021 The New Dimension as Freeware - Non Commercial Use Only!

This game, and its content is classed as free digital software. TND Games consents copying, sharing, modification/improvements and respectable broadcast of this production. However TND Games does not consent any part of this production to be used for physical or digital reproduction for sales or marketing of this production without permission from TND Games.
Install instructions
Open the ZIP archive and then extract the D64s to your subdirectory. In order to be able to use these files you are required a C64 with a freezer cartridge, such as Action/Retro Replay or 1541Ultimate. with cartridge plugins. This program will also work on the Ultimate 64 with cartridge plugins or

The disk images have been split into 3 disk sides:

Side 1 - The main utility, and the Raw SEUCK games "Laser Legion" and "Ray Fish", along with the example title screen, graphics and music files.

Side 2 - Example raw SEUCK games "Night Raid" and "Super Strike" along with the example title screen, graphics and music files

Side 3 - Complete games completely packed and mastered with the SEUCK title screen maker.

Please read PDF for a complete guide on how to enhance your own SEUCK games with this tool.
Download
Download
SEUCK Titlescreen Maker.zip
474 kB